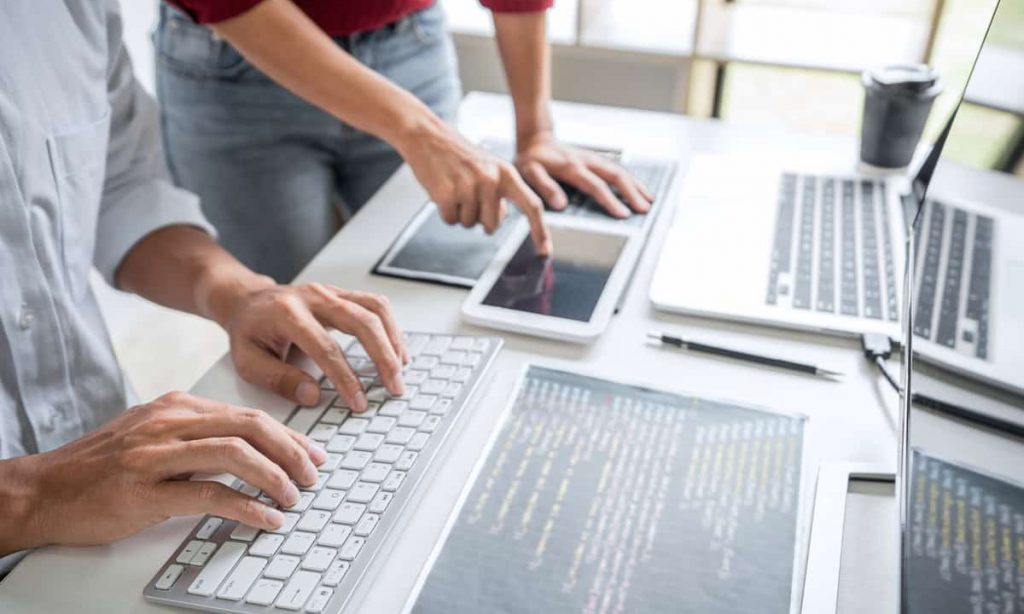 The more options business has when choosing a creative professional for designing their website, the more informed decisions they can take. At some times, choosing the right web designer is more challenging as they have to select the right fit for business. After all, it involves considerable time and financial resources and acts as a driver for meeting sales and marketing goals.
Before choosing the web designer, it's always best to who will be able to meet your needs and can deliver above your expectations. In this case, a business has two options; an established agency with a good amount of high scale experience or work with a freelance web designer. Both of them has their unique benefits and challenges.
WORKING WITH A WEB DESIGN AGENCY
The Pros
More credible
Whether big or small, web design agencies have established a reputation within the web design industry and strive to uphold amongst their community and industry peers. Web design agencies are able to collect online reviews which eventually consider them responsible for their creative services and client relationships.
Website Designers in Andheri, Website Designer in Andheri, Website Development Company in Andheri, Website Development Companies in Andheri, Website Designing Company in Andheri, Web Designing Company in Andheri, Website Developers in Andheri, Web Designer in Andheri, Web Designers in Andheri
Offer more diverse expertise
Often, large web design agencies employ their SEO copywriters, website designers and developers so the clients do not need to worry about hiring professionals or freelancers to complete their project.
Provide more resources
Many established agencies enjoy larger project budgets because of which they are able to devote a good amount of project resources and better technology.
Offer better, more focused web support
A huge advantage that a web design company has over a freelance website designer is offering web support. The agencies have dedicated personnel to provide web support to the clients. So the clients are more confident with the efforts put in by the agency.
The Cons
More expensive
Depending on the agency size, there may be multiple professionals working within it who provide full-service approach that accounts to higher rates and charges. Additionally, they have more reliable resources and technology that allows them to put on a bit higher rate.
WORKING WITH A FREELANCE WEB DESIGNER
The Pros
Inherently cheaper
Freelance web designers can set their hourly or per project rates which allows them to be more flexible when it comes to budgeting as compared to web design agency. They usually don't need to worry about overhead, employee salaries or office space which allows them to offer lower rates.
More specialized
Sometimes, freelancers are more specialized in a specific area of design or niche creative services. They can be an extraordinary fit in case you're not searching for a total site redesign however progressively centered on a specific element to add to your site.
The Cons
Less resources
Most often freelance web designers are working solo and do not have the support of a larger creative team. This means that they can only take on one or two projects at a time. In most cases, website design and development is a big job and often requires hiring more than one freelance web designer to complete.
Tend to offer slower turn-around times
In many cases, freelance web designers juggle more than one project at a time. If your freelance designer is talented, they are probably going to be accumulated with work and will most likely be unable to give you creative services as quickly as you would like. Web design agencies often have customer support staff available to address your inquiries, support your project or connect you with the right person for the task.
Less accountability
As compared to web design firms, freelancers rarely feature public reviews, so the business owner needs to thoroughly go through the freelancer portfolio and past references. In general, online reviews are more reliable as they more often note both the positive and negative aspects of the provider.
WHY MOST BUSINESSES SHOULD WORK WITH A WEB DESIGN AGENCY
Due to the complexity and variety of components in a web design project, most businesses prefer working with a web design agency compared to a freelance web designer. Agencies have the resources and support to take on a full-scale project and offer the ability to support.
While some business owners may choose to hire a freelancer or multiple freelancers they ultimately end up investing significant time and money. Unless your business is in the early stages, hiring a web design agency is highly recommended.
Do you have a website development requirement or mobile application development requirement? Contact Innovins, as we are one of the topmost ranking web designers in Mumbai.
Website Designers in Andheri, Website Designer in Andheri, Website Development Company in Andheri, Website Development Companies in Andheri, Website Designing Company in Andheri, Web Designing Company in Andheri, Website Developers in Andheri, Web Designer in Andheri, Web Designers in Andheri
Image Credit: https://image.freepik.com/free-photo/light-bulb-ideas-creative-diagram-concept_53876-92925.jpg