Sell Courses Online using our Ready Solution for LMS
Reach more students for your courses, using an online course selling & learning platform.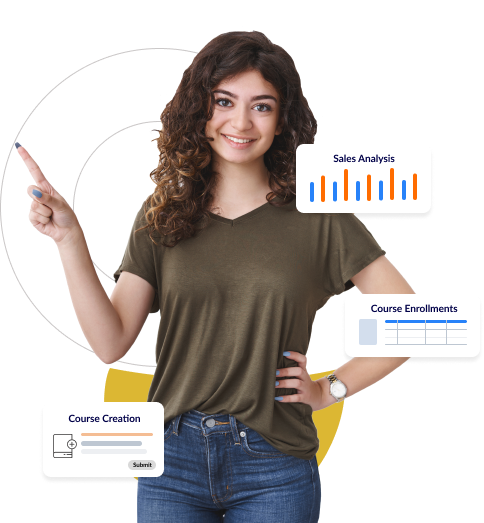 Our Awesome Features To Serve You
These features are tried and test by many online course selling companies for personal and business purposes. 
Students can easily register, buy a course online and start learning from the course material even from their mobiles.
The students can view the purchased courses in their dashboard, which they can easily learn from.
Entire website is copy, print screen protected and right click disabled, to ensure content safety.
You can also add student's offline payments enrolling for online courses, in same students list.
Course details, with its price and validity period can be easily added, edited, deleted
Get list of all the students
You can easily see the list of students enrolled course wise, with the amount paid and their payment status.
Students who wish to enroll for the online courses but prefer paying offline, can also pay you separately
Extract reports for analysis
You can extract reports for the courses sold online/ offline in excel format, that can be extracted for a particular period.
Internal Employee Training
Hobbyists / Self Learners
YouTubers / Video Content Creators
Create an Online Course
Add Course Content
Market Courses on Social Media
Register Students and Sell Courses
Students Learn from your LMS
Why you should use a Learning Management System (LMS)
Ease and Effectiveness is ofcourse the main reason, but apart from it, below benefits of
LMS platform
are the ones that makes it a very attractive medium to sell learning content online.
Virtual Learning
You can create online source of virtual courses.
Manage Learners
Manage course content and learners efficiently.
Learning Automation
You can en-cash on single course content.

Reduce Training Cost
You can training multiple students in teh same cost.
Unified Training Stds.
Training standards can be unified for all learners.
Customer satisfaction is our primary goal. We are passionate about meeting the expectations of clients and making an impact.
We got a custom training platform created to help sell course content, with easy to learn course content. The course content were also mobile friendly, so the students can easily browse through it from the ease of their mobile devices.
Vidwaan
Course Consultants