Custom Job Portal Development Company in Mumbai
A job portal allows job seekers to search for open positions, browse through postings, and apply online. A job portal development service in Mumbai can help employers find the best candidates and streamline the hiring process. Additionally, an excellent online job portal development in Mumbai can help attract new business to your company
Our Awesome Features To Serve You
Our Seven Amazing Features of a Successful Matrimonial Portal
Our job portal is designed to be user-friendly and easy to use
The user interface coordinator will work with the development team to create a user-friendly job portal
Advanced reporting capabilities
Allow businesses to track their recruitment progress and assess the effectiveness of their job portals.
Our platform is secure and compliant with international standards, so you can trust that your data is safe.
We offer a secure and compliant platform for data protection. Our platform is international standard compliant, making it difficult for hackers to access your data.
Integrated social media features
Allow companies to share job openings with their followers on social media platforms like Twitter and LinkedIn.
We are always updating our platform to provide the latest and greatest features and solutions.
Our platform offers the latest and greatest features and solutions to allow you to stay ahead of the competition.
A job portal where you can post your resume and apply to jobs online.
Our online job portal provides employers with a user-friendly platform to search through resumes and apply for jobs.
A powerful search engine that will help you find the perfect job match.
With our powerful search engine, you'll be able to find the perfect job match for your skills and interests.
We Provide Filter Candidate Option In Our Job Portal Solution
Our job portal solution offers a variety of filter options to help you find the right candidates for your needs. You can search by keyword, location, job title, and more. You can also filter by availability, education level, and work experience.
We Provide My Profile Dashboard In Our Job Portal Solution
One of the features that our job portal solution offers is a my profile dashboard. This dashboard gives users a quick and easy way to view and update their personal information, as well as see any new messages or notifications.
We Provide An Option To Download Report In Our Job Portal Solution
We understand that many of our users are looking for a way to download reports from our job portal solution. We are happy to announce that we now provide an option to download information. This new feature will allow users to download and print reports for their records easily.
How We Provide Active And Inactive Job Features In Our Job Portal Solution
We believe that providing active and inactive job features is important in order to make sure that everyone has an equal opportunity to find a job on our website. By providing both types of features, we are making it easier for Job Seekers to find a job that matches their interests and location.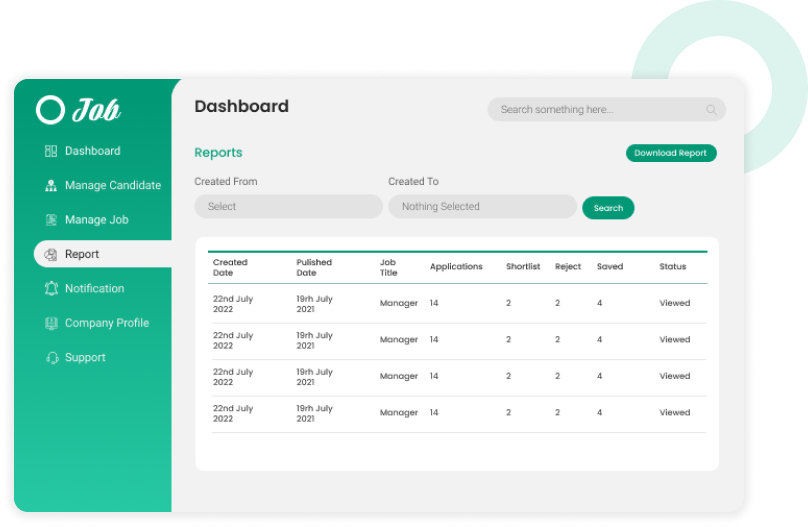 Job Listings Feature - Giving The Job Hunters What They Want
We understand that job seekers want to find jobs quickly and easily, and that's why we offer job listing feature on our job portal solution. This allows job hunters to browse through all the jobs that are currently available in our system, and get a sense for what type of work they may be interested in.
Helpful for Business Owners
Schools & Teaching Institutes


Helpful for Business Owners
Schools & Teaching Institutes
Employers Register
Once you register in the job portal, all your achievements, skills, and individual details will be reserved privately. This will be kept secure unless you let them split your details to your future employers.
Employer Posts Jobs
Employers can post jobs for which they have openings , by selecting appropriate qualifications, experiences, job location, skill sets, work hours etc. So the Job alerts reach the right candidates.
Employees Register
Employees Get Fast & Easy Registration With Few Step. The job portal is a very important tool for employees. In a nutshell, an employee can register in a job portal and create a profile which includes a job description and resume.
Employees Get Job Alerts
A superior job portal provides standard job alerts whenever there are job openings for you. This way, you won't neglect a chance to be valid for your target job and bound to start your career.

Employees Apply to Jobs
With our job portal, you can be relevant for a job effortlessly. Instead of going to your intended firm, you can submit your resume online. After submitting, you can relax, and wait for your future employers to take action.
Why you should use a ready solution
for Job Portal
They make it easier for people to search for jobs, see the latest job postings, and apply
directly from the portal. You can also connect with employers through the portal.
They make it easier to search for jobs. A job portal gives you access to a wide range of jobs, so you can find the perfect one for your skills and interests.
They keep track of all the latest job postings. A job portal keeps track of all the latest job postings so that you always have the most up-to-date information on available jobs.
They make it easy to apply for jobs. A job portal lets you apply for jobs from within the portal itself, saving you time on paperwork and online application forms.
The employers that use a job portal often offer bonuses and other benefits to their users, making it even more valuable to be connected to them through a job portal.
Increased efficiency: With ready solutions, you can quickly create a job portal and connect with employers without spending hours researching different platforms
Greater control: You have full control over the design and layout of your job portal using ready solutions, which gives you more flexibility in how you
As you can see, our clients are very satisfied with our job portal. So if you're looking for a convenient and effective way to find a job, It is a great way to connect with employers. It is a great way to connect with employers. Find some great jobs and networking opportunities through the site.
I was very satisfied with the Job Portal Solutions. The system is user-friendly and the tools it provides are great,
Overall our experience with job portal development was positive.
Entire
process was smooth & Highly recommend! Thank you for your dedication and hard work!
Versatile Pvt Ltd.