Stay up-to-date with our new chatbot online service solution.
A very easy to integrate chat application that is easy to feed custom questions and desired answers, that can be easily configured from the backend admin panel. This application can have answers as multiple choice options, input field, attachment fields and even URL fields. The best part is this when integrated becomes you system integration for lifetime, so cost of integration is just 1 time cost.
The chat application is a tried and tested solution for very well known clients, hence we exactly know what features will well suit for a very effective chat application.
Every chatbot triggered conversation initiated during chatbot usage on the website is immediately emailed as a notification to the admin when the chat ends.
The chat application integrated on the website, is mobile responsive and will work effectively even when chat is initiated through a mobile device.
We offer 1 time personal training and reference training videos and documentations to the client after successful setup of the application on the website.
Intuitive Dashboard for quick input.
Set your question and answer sequence.

Input in the backend all the questions and answers.




Map all the answers to the questions for sequential flow.
Edit a chat flow sequence Whenever needed
Click on edit button




Edit/Delete a question/ answer as needed




You can also change the answer type to MCQs, input field type or redirection URLs.
View chat log in the admin panel apart from receiving email notifications.
Every Chat communication is emailed to the admin as email notification.

The same chat communication that is emailed, is also stored in the backend admin panel, with date and time.
Internal Org. Training Staff
Use the intutive backend to input chat questions and answers.
Setup the application on the desired website.
Test if the questions and answers sequences set by you are giving desired results, if not you can rearrange.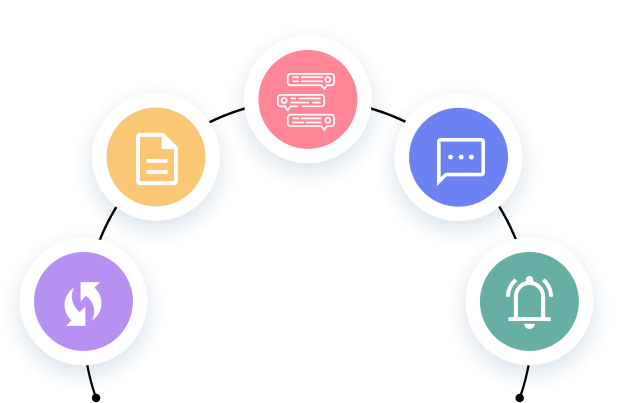 The visitor can now use the chat application to get answers for the queries.
All the chats on the website get emailed as a notification to the admin's set email id.
Why you should use a chatbot
The best Innovative Chatbot and automations are here to expand communication boundaries.
2 Major Reasons why a chatbot can be useful and most effective tool in communication on a website.

24/7  Automated Support
This includes, Unmanned Tech supports, Sales lead re-directions, General Enquiries Filtertion.
Useful for Internal/ External Communications.
The Application can minimize personal communication by automating standard organizational & client communications.
The Chat Application has been successfully used by many of our clients in their websites giving them quick and effective communication edge over the others.
Being a pan India emergency ambulance service provider. We get a lot of emergencies calls and very limited support staff. The chat bot helped us filter out general enquiries from the emergency calls, thereby helping our support staff reach out personally only to the most needy ones.
Ziqitza Healthcare Ltd.
Emergency Ambulance Services